Guest Post by Esther K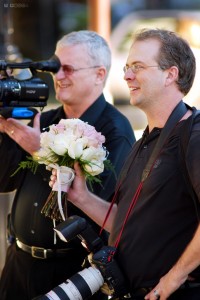 Flowers die, and food spoils, invitations are thrown away and sometimes used as a great substitute dustpan, but pictures can last forever. I didn't care much about the minute details of my wedding. All I wanted was gorgeous pictures, because pictures would be all I would have to remember my wedding day by.
Unfortunately, I didn't get that. The photographer my in-laws hired, had done a beautiful job on a previous family wedding, but for my wedding they sent a crew member, not the head photographer – and he had no idea what he was doing. He was unenthusiastic (he didn't even bother to ask my name, or anyone in the wedding party's name), a little creepy, and had no imagination for posing. I actually told him to stop posing me (or whatever he was attempting to do) and I did my own thing. He got all excited and was like "Wow, this is great, like out of a bridal magazine" and I was thinking, what the heck, you're a wedding photographer, you should know such posing cold!!
I also wanted a lot of candid shots to capture the essence of the wedding, I'm not so into stoic family portraits… didn't get that either… It's a good thing I looked that good by my wedding so a total fiasco was slightly averted.
I had several other issues with my pictures, and after a year of marriage I still have not selected photos for my official album, simply because I hate looking at my wedding pictures. When I got my proofs a month after blissful marital utopia (ye, it took that long to get them)  I had full-blown meltdown on my husband, his first time experiencing me sobbing uncontrollably… fun stuff to put it mildly. It's a sad cautionary tale. The one thing I wanted for my wedding I didn't get, but at least I can pass on a few tips for looking into photographers.
Know what type of pictures you want – artistic, classic, candid shots, and the like.
Ask for recommendation, look at other people's proofs, note what you like and don't like.
If there are certain pictures or poses you want taken , make a list so you don't forget. (make that list even if you remember EVERYTHING)
Make sure you know which photographer you will be getting if there is a crew of photographers.
Know what's included in your "package": how many  hours of photography, what format you'll receive the proofs in, how many photos allotted in the master album (photographers rake it in this area, so know what you're getting for how much.
If you're not comfortable with the photographer by the actual affair, pause a moment, evaluate what's not going right and try to rectify the situation, talk to the photographer, don't just let it pass by (like I did).
Here's to you only reading this tale and never experiencing it. MAZAL TOV.
Photo credit: DeusXFlorida
About The Author: