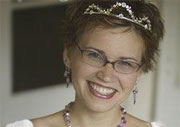 Simple and sound advice for your Big Day. Five practical points you must consider in order to heighten your Jewish Wedding experience.
Sleep
Wedding day begins with a good night's rest. Many brides wake up the night before their wedding with the realization that some things, like place-cards or some other arrangements, still haven't been done. If you don't get a restful sleep the night before your wedding, your photographer will not be pleased. So plan ahead and make sure that you are well rested for the big day.
Relax
You've been planning for this day for a very long time. Now that the event has begun -(official starting time is when the photographer gets there), all you need to focus on is on the sanctity of a Jewish wedding and your happiness and bliss. Natural smiles make for the best pictures. Logistics, seating arrangements, financial decisions should be handed over to someone other than the bride or the groom. You, as every bride, want everything to be just perfect, but then you run the risk of missing out on this greatest moment. Your wedding's here – it's time to let go.
Marriage starts here
Your marriage is in progress from the moment the wedding band hugs your finger. The wedding ceremony and the reception is for you and your partner, so take the time to focus on your partner and his or her happiness; let your new spouse know how happy you are at this moment.  Start your marriage off on the right foot by being attentive to your partner.
White
Jewish wedding ceremony calls for wine.  It is advisable to use white wine for this, unless of course you have a red wedding gown.  Otherwise better play it safe: white wine will not stain the wedding gown.
Comfort
Looks are important but comfort is imperative. Your Cinderella gown does not need crystal shoes to match. You plan to be dancing right? Make sure you pack a pair of comfy backup shoes so you can keep up with your guests on the dance floor.