Diamonds are forever, right? What if they're rented diamonds, are they still forever? We'd like to get your view on this.
Every bride wants her wedding to be a symphony of perfection, a day that rises high above the ordinary. Needless to say that the bride is the epicenter of this symphony, the 'first violin'. Extraordinary begins with her: her gown, her make up, hair, and jewelry – all radiate, as if her beauty spills over onto all the other elements of the wedding. When it comes to jewelry, not every gal has a $25,000 necklace stashed away just for these sort of occasions. So here, there are a couple of options. You may have some family jewels that gets passed around. Your soon to be husband may 'surprise' you with some 'pearls of wisdom' after the chuppah. If you're waiting until after the chuppah to sparkle, then in most of your portraits (which are ttaken before the ceremony) there's something missing around the neck area. And what about the other beautiful ladies at your wedding, the sisters, bridesmaids, the mothers, they also would like to dazzle at these somewhat rare and glamourous occasions. The additional jewelry choices are costume jewelry and something more recent – jewelry rental. The fact of the matter is that most women wear costume jewelry on these not so frequent evenings when only the high-fashion jewelry will do. (In fact, many women who go the extra to strut real diamonds, are often assumed to be wearing imitations.) But for those who wouldn't be caught dead wearing fakes, a new company that's making headlines, Adorn Brides – a Diamond Jewelry Rental
, can offer very real brilliance for the occasion and only for the occasion. The selection, it seems to me, is a bit limited, but it's growing and hey it's the real thing. Here are some items in the collection:
Lockwood Necklace: Retail purchase price – $24,000; rental price – $490.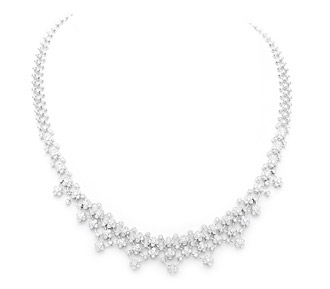 Spencer Necklace: Retail purchase price – $9,800; rental price – $290.
The rental prices are not cheap, to say the least. (Then again if you were to rent a professional camera which retails for about $5,000, you'd pay $300 per day; a car on the other hand that retails $20,000 and up can be rented for $50 per day. Math isn't exactly my forte, but somehow I get the feeling that these numbers follow a different rules of logic.)
Here are some images of other items in the Adorn collection: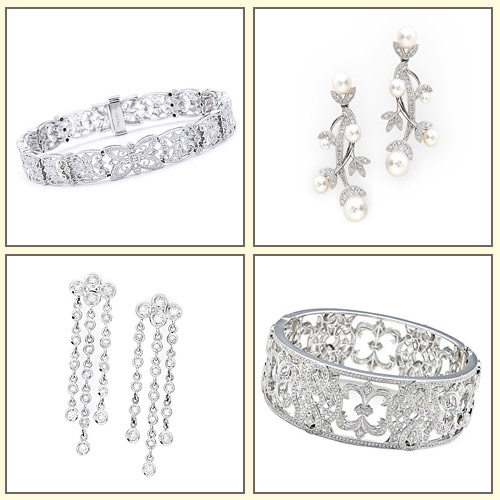 The other alternative – bridal costume jewelry, a.k.a. the fakes, can be purchased for keeps for less than the rental price of the real thing. For example:


This Silver zircon & crystal drop necklace by Tejani can be purchased for $285. (I've no idea what this looks like in real life; there are plenty of people who'd spot a fake from a mile away.)
So the wedding jewels dilemma: Get the real thing, even if it's only for the evening, or go for the shiny, sparkly fakes. Which camp are you in?