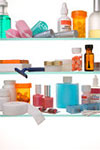 Many misconceptions about skin care exist and many make-up mistakes happen as a result. Four commonly assumed myths are clarified in this article by Debby Grossman, a well known educator and a renowned make-up artist.
The Right Regimen
Did you ever feel like you need to wash your face twice before your skin feels clean? How about the time you cleansed with a product that made your skin feel tight or flaky? When that happens, you're using the wrong product or regiment for your skin type. But how do I know what's right for me?
With the onset of winter, your skin can really get abused due to the harsh cold weather conditions. Knowing how to pamper and protect your skin properly can be invaluable. I find that women know more about make-up than taking care of their skin. Most women are misinformed or know very little about basic skin care. I always say, Your make-up can only look as good as your skin which is under it. Therefore, knowing how to make your skin look its very best is just as important as beautiful make-up.
There are so many different manufacturers pushing so many kinds of creams and regiments. Knowing which one is right for your skin can be very confusing. Questions abound, like, what should I cleanse with? Do I need Toner? Should I use an Alpha Hydroxyl Acid? These are some of the many questions make-up artists like myself have to answer on a regular basis, when preparing a client for a wedding or special event.
4 beauty myths
Here's a list of misconceptions people have about their skin, and some real answers!
Myth: My skin needs to breathe
Fact: Yes, it's nice to take a break from your make-up routine. Women have that attitude especially in the summer. But not because make-up suffocates the skin. If that were true, we would be getting quite sick wearing make-up. It is true that certain make-up's and heavy creams can irritate or clog your pores. That is why a correct skin care regiment is so important.
Myth: Oily skin should be dried out
Fact: When teenagers spot pimples coming on, the first thing they do is scrub, cleanse, squeeze, and poke to try to make them disappear faster. So what's a mother to do? Educate your teens. Just because your skin is oily, removing every trace of oil will only aggravate your complexion more. Having created a dehydrated condition, your skin may begin to over produce more oils to compensate for the over zealous cleansing and dryness. Oils trapped underneath become infected, causing pimples. We put moisture on the skin to help it stay supple on the outside, as it receives oil and water from the inside. Remember, after cleansing, your skin should never feel tight, dry, or burn. Hint: For oily skin use an oil-free moisturizer. For normal to dry skin, use a moisturizing one.
Myth: Sun is a great source of vitamin d
Fact: In the l950's, doctors advised their patients to place children in the sun as a great source of vitamin D. As we all know today, prolonged sun isn't healthy. Tanning in the sun is like burning a slice of toast. It's bad for you. Get into the habit of wearing sunscreen all year round. Make sure it has both UVA and UVB protection with an SPF of 15 to 45. All doctors admit that one of the main causes of wrinkles and sun spots is exposure to the sun. Wouldn't you rather be safe than sorry?
Myth: Blue eyes should wear blue eyeshadow
Fact: Imagine putting a ruby into a red velvet box, what happens to the ruby? It disappears, and becomes less noticeable. The same applies to eye shadow. Contrast your eye color with a complimentary shadow, not the same color.
To get your skin back into a healthy state, here are a few simple changes to help you get great results.
Never go to sleep with make-up on. Make-up settles into your pores and causes breakouts.
Choose a gentle cleanser that takes off all your make-up. "Gentle" means that it doesn't burn or sting, and doesn't make your face feel taut or dry after rinsing.
Moisturize where and when you need to. Listen to your face. Don't over moisturize areas that are not dry. On the overly dry areas use a little extra hydration.
Masks are a great way to pamper your skin, and work wonders before an important event. They can be a wonderful, soothing part of your skin care routine. You can find masks made for every skin type. Oily skin should try gel masks. If your skin is normal to dry, use amask that is moisturizing. Your skin will glow and feel soft for hours. So there you have it- the myths and facts about great skin care, revealed.
Don't forget, it's up to you to take proper care of your skin. You'll be glad you did.
Debby Grossman is a professional Make-Up Artist and Beauty and Fashion Editor, specializing in bridal and fashion make-up. She is also a leader in Make-up Training. Courses teaching classic looks and the latest trends. For courses, lessons or booking wedding make-up Debby can be reached at 1-888-376-7610