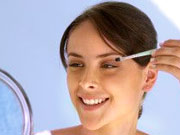 You've got to look your best for the Big day. Learning how to apply your makeup properly is important now more than ever. It can, however, be difficult and time-consuming. Here are the most common beauty mistakes that women make, and how to avoid them.
Skipping foundation
Although many people dislike the feel of a full face of makeup, an even base creates the perfect canvas for the rest of your color makeup. Heavy, cakey foundation is a thing of the past; with tinted moisturizers, sheer formulas and finely milled powders, you won't even feel like you're wearing makeup.
The key is to find the texture that is right for your skin type. If your skin is dry, try a sheer or moisturizing tint that you can actually use instead of your regular moisturizer.. Normal to oily skin types should stick with powder textures.
Concealer that is too light
If you have dark under-eye circles, the biggest mistake you can make is to choose the wrong color concealer. A good under-eye concealer should match the rest of your skin. Many people pick one that is too light to overcompensate for the darkness, which actually looks unnatural.
If you have blue or purple undertones under your eyes, choose a concealer that is peachy to counteract the darkness. Again, the under-eye area should be uniform in color with the rest of the skin, so avoid one that looks too white or light on the skin.
Wearing the wrong foundation color
Although you may be tempted to wear a foundation that is a little bit darker than your natural skin tone, the result can look mask-like. Think about it: If you wear a base that is too dark, the rest of your body will not match your face.
If you insist on adding a little bit of color to your face, choose a foundation that matches your natural skin tone exactly, and add warmth with a blush or bronzer. If you decide to use a bronzer, place the color on the cheeks, nose, chin and forehead to mimic a natural tan.
Not taking care of your skin
Many of us don't have the time or energy to take proper care of our skin, but the results will eventually catch up to you. By starting a good skincare regimen, you will keep your skin healthy while preventing premature signs of aging. Use a moisturizer with an SPF daily to protect your skin from the sun's damaging rays. In addition, many people with oily skin think they don't need a moisturizer.
However, people of all skin types should regularly use some type of face lotion. If you have oily skin, choose one that is oil-free, like DDF Ultra-Lite Oil Free Moisturizing Dew ($35, macys.com) to help hydrate your skin without greasiness.
Limiting color choices based on "season"
It's not what you wear, but how you wear it. Many women are under the impression that they are limited in their makeup choices due to their eye or hair color. This misconception is completely outdated and unnecessarily limits you. Makeup is made to make a person feel beautiful and confident. If you feel great in certain colors, then by all means, wear them. Makeup colors can be worn all year round.
So many women ask me, I had my colors done and I am a Winter (or Spring, Summer or Fall), so what colors can I wear? My answer to them is always Wear what you feel good in! Remember, its just makeup!
Not using makeup brushes. Would an artist ever begin painting without a palette and brushes? Probably not. While blending with your hands is convenient, it's not always the best way to maximize the product you are applying. Certain products, like eye shadow and blush, are best applied with the right brushes.
By using the right tools, you'll end up with a more polished and professional look, instead of looking like you finger-painted your face. After all, what's the point of spending a lot of money on makeup if you don't have the proper tools?.
Popping pimples
The occasional zit can be unsightly and annoying, but the last thing you want to do is try to pop it. Not only can this lead to scarring, but you also may spread bacteria, which can lead to a serious infection. Instead, try a topical treatment such as Mario Badescu Drying Lotion to get rid of that pimple in a heartbeat.
Overplucking brows
Eye brows play a very important role on the face. As a makeup artist, I find that many people have brows that are either overplucked or very light. Thin brows make your face look severe and outdated. Remember that growing them back is no easy task. If you're unsure of how to shape your brows, leave it up to a professional. However, if you do end up taking out more than your expect, do remember to fill in any gaps with an eyebrow pencil or powder.
If you have very thin brows, a fine pencil is your best bet because you can draw them in. Try an Eye Brow pencil in a natural-looking color. For thicker brows, consider a powder to fill in any bald spots.
Overly contoured blush
Blush is meant to give the cheeks a natural flush. Many women apply a dark blush to the hollows of their cheeks in order to give the appearance of higher cheekbones. On a daily basis, this looks completely unnatural and actually ages you. Instead, choose a subtle color in rose, peach or bronze to bring out a healthy glow.
Apply the cheek color to the apples of the cheek (where your cheek muscle balls up when you smile) and blend outward towards the hairline. This method will give you a fresh, youthful glow, instead of a harsh, outdated line.
Debby Grossman is a professional Make-Up Artist and Beauty and Fashion Editor, specializing in bridal and fashion make-up. She is also a leader in Make-up Training. Courses teaching classic looks and the latest trends. For courses, lessons or booking wedding make-up Debby can be reached at 1-888-376-7610