This weekend, Aug 21-22, Macy's is having a one day sale, which also coincides with their Semi-annual Home Sale. You might find stylish kitchen products for your new home or great gift items for that bridal shower at a great price. Unfortunately for us Shabbos keepers they always have them on Saturday. The sale is on their website as well, you might be able to get some of the good deals online (there's a free shipping promotion that may work for you, read on.) Here are a few of our picks:
Kalorik Aztec TO-25244 Toaster – Reg. $80.00 – Sale $59.99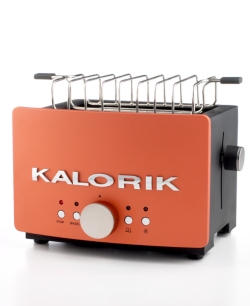 And a coffee maker to match: Kalorik Aztec CM-25282 Coffee Maker, Reg. $100.00 –  Sale $79.99
Anyone who's been around the kitchen for some time will tell you how important is a good knife set. This Anolon Bronze 15-Piece Cutlery Set features great design elements including a slope from the blade to the handle that doesn't allow for grease to collect inside the ridge as with most knives in the store.
Or for a more colorful option there's the Fiesta Cutlery, 11 Piece Set with Wood Block
These are just some very random picks from the tousands of items that are available at a discount at Macy's, you might find other great finds that suit your needs and interests. Happy Shopping!
They're also have a free shipping codeon home items. We're not sure if it could be applied to the sale items.
Free Shipping on $125 Home purchase at macys.com! Enter promo code: BERRY at checkout. Valid 08/25/2009 through 08/26/2009
Perhaps with a little pressure they could be persuaded to accept it anyways. Good luck!