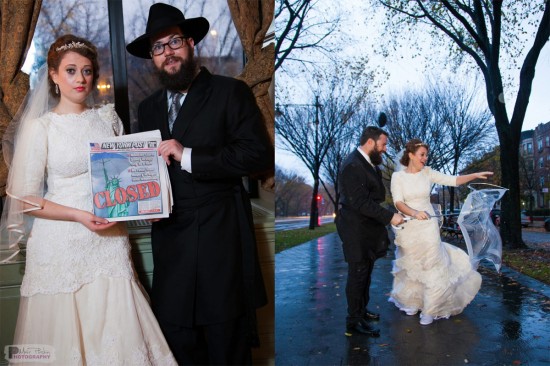 Photo by Meir Pliskin Photography
Hurricane Sandy wreaked havoc on NYC as well as the rest of the North East on Monday October 29, but this couple and a majority of their guests created their own whirlwind on the dance floor at their wedding which proceeded as planned. The wedding of Chaim and Nechama was held in Brooklyn Jewish Center as one of the worst storms in US History was raging through the streets.
Quite often, weddings, which are planned months in advance, get caught up in some unpredictable nature event (like this Blizzard wedding in Chicago last year or the Blizzard of 2010 in NY). For Jewish families a wedding is more than a celebration with friends and family, more than a lifecycle milestone; a wedding is a beginning of fresh branch within the House of Israel. It takes more than gusty winds to put the brakes on this occasion. Mazel Tov to the new couple!