You got engaged – Mazal Tov!
The excitement is still fresh and growing, and your phone probably hasn't stopped ringing. You haven't looked down to check for certain, but it sure feels like there are clouds under your feet. A new period of your life has just started and you may also need prepare for it. During these pre-chassana months you may encounter questions like how to avoid yichud while searching for an apartment, what presents are customarily exchanged between the Chosson and Kallah and their parents or how to deal properly with varying opinions and colliding family customs. It's also a good time to read up on the reasons behind some of the wedding minhagim (customs) and halachos.
Below you will find some books which will guide you through your engagement, answer a variety of halachic questions and help you be prepared for your wedding and thereafter.
A Jewish Wedding Guide by Rabbi Aryeh Kaplan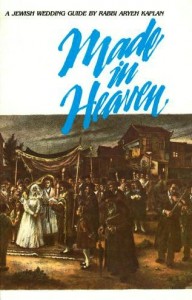 Inside you will find very well organized and detailed descriptions and explanations of laws, traditions and customs between the engagement and until after the chuppah. The author brings multiple opinions and sources and discusses varying traditions in different communities. There's also plenty of practical advice and suggestions for the preparations and the arrangement of the wedding.
Hardcover: 234 pages
Publisher: Moznaim Pub Corp
ISBN-10: 0940118114
ISBN-13: 978-0940118119
Buy at: Amazon | Eichlers | Judaism.com
by Rabbi Pesach Eliyahu Falk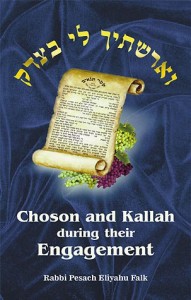 This book concentrates mostly on the laws of tznius, yichud, negiah, and proper behavior during the engagement period and looks for solutions in questionable situations. This comprehensive work discusses all the practical applications of the halachos, in a clear and sensitive way.
Hardcover: 288 pages
Publisher: Feldheim
ISBN-10: 1583304711
ISBN-13: 978-1583304716
Buy at: Amazon | Eichlers | Feldheim | Judaism.com
Enhancing the Success of Your Marriage Right from the Start – And Even Before It Begins by Rabbi Abraham J. Twerski
Shanah Rishonah is a very important period in the lives of newlyweds. The first year builds the future family's foundation. It's like a mold that can be shaped, fixed and reshaped while it's still fresh. As soon as it dries up, any changes to it are more difficult. In this book, Rabbi Twerski explains at the outset that every couple needs to understand the mechanisms of adjustment and change; that they must be aware of the differences in their upbringings and expectations. These life experiences are neither "right" nor "wrong," but require honest discussion as the marriage takes root and differences surface. Rabbi Twerski's insightful portrayals of everyday situations will make you say, "That's us! How did he know?" He knows because he has counseled thousands of people and he knows the value of advance awareness and solid advice. This is a book that should be read by engaged couples, newly married couples, and their parents.
Hardcover: 211 pages
Publisher: Mesorah Pubns Ltd
ISBN-10: 1578194326
ISBN-13: 978-1578194322
Buy at: Amazon | Artscroll | Eichlers | Judaism.com
What to Know Before Dating and Marriage by Gila Manolson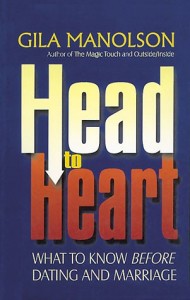 This book should preferably be read before you start dating, but it's not too late to read even after you got married. The book goes over many topics where you have to find a distinct view on what you want to achieve by becoming a partner in life with someone else. It reminds you that before expecting the other person to change to fit you better, it's you who should change first. This is a guidebook with checklists, a manual that looks at dating, love, and marriage from a Torah perspective and comes up with some surprising, and important, conclusions.
Paperback: 176 pages
Publisher: Targum
ISBN-10: 1568719973
ISBN-13: 978-1568719979
Buy at: Amazon | Eichlers | Feldheim | Judaism.com
Torah Guidelines for Marriage by Tehilla Abramov and Rabbi Yirmiyohu Abramov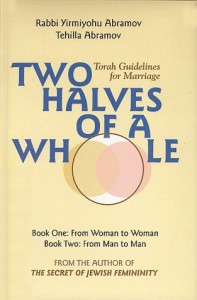 Written by the author of The Secret of Jewish Femininity, and her husband, a rabbi and noted educator, Two Halves of a Whole aims to help couples understand each other better and promote shalom bayis (marital harmony).  It provides insightful and down-to-earth Torah guidelines for enhancing one's marriage based on the authors' years of experience teaching and counseling engaged and married couples. This book is especially unique in that it takes into account that shalom bayis is made by two people and is written for both husband and wife. The first section for wives, presented by a woman for women, and the second from a man to the men.
Hardcover: 210 pages
Publisher: Targum
ISBN-10: 1568710682
ISBN-13: 978-1568710686
Buy at: Amazon | Eichlers | Judaism.com
A Marital Guide for Men Only by Rabbi Shalom Arush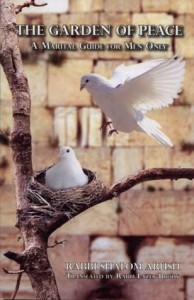 This is the English-language version of B'Gan HaShalom, a book that has become an overnight best-seller in Israel. A priceless guide that will transform your marriage! Rabbi Arush's reputation precedes him and many are familiar with his other inspirational books.  In the Garden of Peace you're invited to take a stroll through a delightful and refreshing garden, where tranquil thoughts, soothing words, and brilliant insights abound. This eye-opening book, written for men only, is the first of its kind. Direct, honest, down-to-earth, and practical, it describes the true path to peace between a husband and wife. This is an amazingly enjoyable and practical guidebook for men that want to be winning husbands.
Paperback: 348 pages
Publisher: Diamond Press
ISBN-10: 5495321065
ISBN-13: 978-5495321069
Buy at: Amazon | Eichlers | Feldheim | Judaism.com
The Garden of Peace for Women by Rabbi Shalom Arush
Women's Wisdom is the long-awaited sequel to the Garden of Peace, now written for the woman of the household. It will show you how to create and preserve a happy, healthy marriage. How can a woman build up her marriage so that it is one of peace and tranquility? What is the real meaning of love? What is the role of the wife in the home? Not only does this book present a beautiful, time-tested perspective on marriage, it also offers wisdom and insight on parenting, prayer, and motherhood. A vital read for every Jewish woman!
Paperback: 414 pages
Publisher: Chut Shel Chesed Institutions
ASIN: B003EW0OF2
Buy at: Amazon | Eichlers | Feldheim | Judaism.com
by Rabbi Binyomin Forst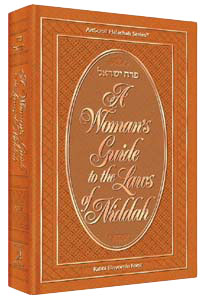 This is a complete nidah encyclopedia. This book covers laws, customs, traditions and multiple opinions on various nidah topics. It's very organized and is optimized for common use, when one needs to quickly look up a specific question or need to clarify how to do things right. Kallos will find valuable advice and answers for many questions in the special Kallah section. Kallah teachers choose this book as a single complete guide for teaching. It is complete, yet not too technical, so that one will not be overwhelmed by the material. It is authoritative, but does not claim to replace a competent Rav. It will remove unnecessary doubt and insecurity from countless delicate family situations, and let conscientious people know what to do, when to do it, and how to ask questions.
Hardcover: 373 pages
Publisher: Mesorah Publications Ltd (Artscroll)
ISBN-10: 1578191386
ISBN-13: 978-1578191383
Buy at: Amazon | Artscroll | Eichlers