Vera Wang every once in a while posts on her blog a few notes about the thinking behind the designs of some of her gowns. These notes are usually accompanied with her sketches. I really enjoy comparing the sketches to the finished product. And although, I am sure that the sketches that Vera publishes on her blog are chosen to match the finished gown, it still fascinates me to see the drawings.
From the Spring 2011 Collection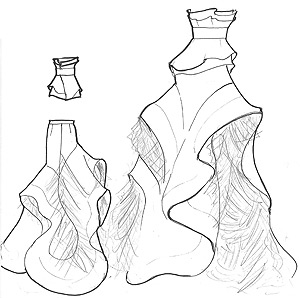 Fern – two-piece silk gazaar gown with multi tiered peplum bodice and cascading peplum skirt with layers of tissue organza in a 'ladder' technique.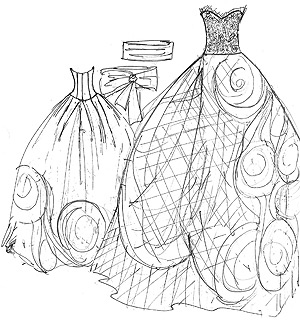 Flora – Tulle and tissue organza ball-gown with floral sea bead embroidery on bodice, draped skirt with floating floral motifs.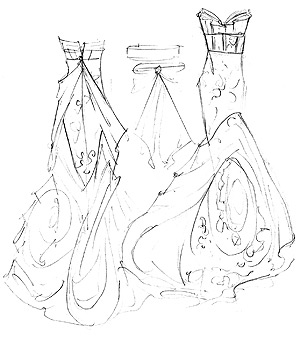 Fawn – a light and airy mermaid gown with cascading layers of Chantilly lace applique and soft tissue organza blossom flange skirt.
From the Fall 2010 Collection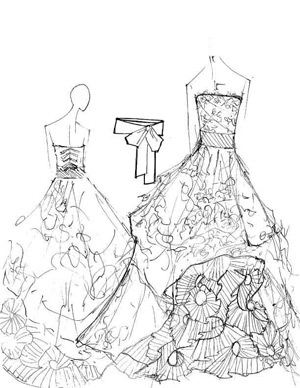 Eliza is a tulle ball-gown with with floating Chantilly and Alencon lace applique bodice, softly tucked skirt with swirling pleated organza insert.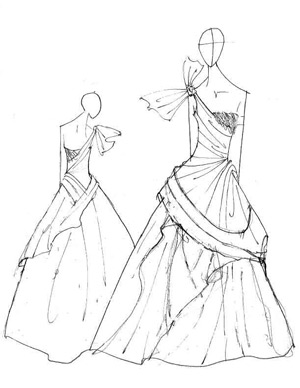 Eloise – One-shoulder tissue taffeta A-line gown with asymmetrically draped bubble skirt.
To see more of these sketches, visit Vera's Blog.