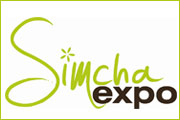 Only a few days left
until the Lakewood Simcha Expo!
Last year, ChossonKallah.com was a sponsor Simcha Expo 2009. Once again, year, we are glad to be a part of Simcha Expo 2010. This year's expo will take place at separate venues one week apart. The first show is this Motzei Shabbos, November 13th, in Lake Terrace, Lakewood, NJ. The second show will be held next Sunday, November 21, at the Inwood Country Club in Inwood, Long Island.
Locations:
Lake Terrace Hall
1690 Oak Street
Lakewood, New Jersey 08701
Inwood Country Club
50 Peppe Road
Inwood, New York 11096
If you are in the Parsha of planning a wedding or a Bar Mitzvah, we encourage you to attend the expo. ChossonKallah.com may be a great way for you to connect with all the various businesses in the wedding community; a chance to meet with many of these vendors face to face in the same room on the same day, however, is as informative as it is exciting. Exciting, because the Simcha Expo is a very well organized and decorated affair with beautiful displays and creative designs. (If you do attend the expo, feel free to drop us a line about your experiences there.)
For more information, visit www.SimchaExpo.com