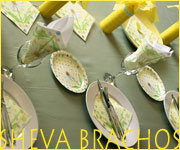 Ever notice how the Chosson and Kallah arrive ever so fashionably late to the Sheva Brachos party made in their honor? Even though they"ve been looking forward to hearing another couple of speeches from relatives they never knew they had (I guess that's what they call Panim Chadoshos) and to having to respond another dozen times to "So, how's married life?", they seem to always get held back by this, that, and the other. Or could there be a trend here? If you're the host of a Sheva Brachos party, we think it's time you planned well and did things right, and also threw in a bit of the WOW factor into your party, so the new couple will add another wonderful evening to the memory scrapbook of their wedding. You'll have to summon your creativity. As far as the basics, here are some tips.
Most successful Sheva Brachos parties are planned well in advance. Think of the Sheva Brachos party as a miniature wedding or a bar mitzvah. Consider every detail. The following are some items you will want to go over well before the night of your next Sheva Brachos party.
Select a Theme – Yes, we know many of you think themes are just so corny, but it's a simple way of having all the elements at your party come together. It's just like matching a top to a skirt – they have to work together. You don"t have to have an actual theme. Do think of the total effect of your party; consider colors (vibrant and vivid vs natural and pastels), shapes, moods (humorous or upbeat or romantic), objects, and styles (modern, contemporary simplicity with sharp angles vs detailed, curved, floral and Victorian). Here too you want to think of the couple and your guests to decide which of your ideas will make a better impression.
Send invites with time, address and an rsvp contact – part of the success of your Sheva Brachos is the crowd. Many people take a very informal approach to the invitees. If you take your guest list seriously, you'll get instant improvement in the results. This will probably take extra effort, a number of extra phone calls. If your guests see that you're taking this seriously, they will also treat it with more importance. Confirm attendees.
Make a menu. Some of the things to consider are: Should the guests have something to munch on while they wait for the couple's arrival? Try to come with at least some items on your menu that can be made in advance. Find out if any of your guests have any dietary needs or food allergies.
Divide and Conquer. One person cannot do this all alone. So enlist help. Especially for the party itself – someone to dish out the food, someone to serve, and someone to clear the tables.
Shopping List. Not just the food items. All the things you'll need.
Prep List. Write down not only the items on your menu but break it down into tasks. A little of extra planning early on saves a lot of stress later.
Write a Running Order. You must have noticed that at a wedding the caterer manages to get everyone fed on time and one course flows to the other seamlessly? The reason is that they have a precise workflow. Each step is pre-planned and prepared at a designated time. This is called a "Running Order" or a "Work Flow" – a schedule of what needs to be done and when.
The Program: The food is only part of the evening. Get creative with the entertainment. Speeches, divrei Torah should correspond to the overall feel of the evening. Suggest topics to your speakers. (Afterall, it's your party.) Also, remember, everyone loves surprises. Find a way to surprise the new couple with something.
Spic-n-Span. Polish all the cutlery. (Unless of course you're using disposables) Check the glassware and wash and polish if need be.
Do you have enough chairs? Probably not. Find a gemach or talk to the neighbors. If possible, renting is the way to go. Having matching chairs, even if they're in lowest of price ranges maintains that put together feel.
Test Drive. Set the table for a test, as you will on the day.
Music and Lighting. What greets the eyes and ears of your guests is just as important as what goes into their stomachs. See if you can bring it all together.
Tidy up
Set the table in the morning of the event. Get this task out of the way early, so you're ready for the guests when they arrive.
With proper planning, you should be able to stay on top of everything that needs to be done. You have it all on paper; there's no need to stress, you'll do great!