This truly one of a kind wedding comes to us from Claire Morgan, an award winning photographer based in Vienna. The couple – Miriam and Michael who are Vienna natives, were married this April in one of the most breathtaking wedding venues – the Schloss Grafenegg castle.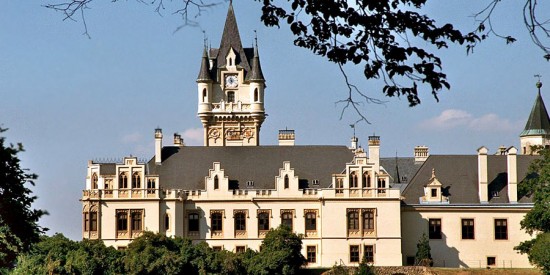 A historic European hotel and a popular event and concert space, Grafenegg offered everything the couple was looking for and more. Inside and outside, the castle and the grounds make for a romantic wedding setting as well as a dramatic backdrop for Claire's remarkable imagery.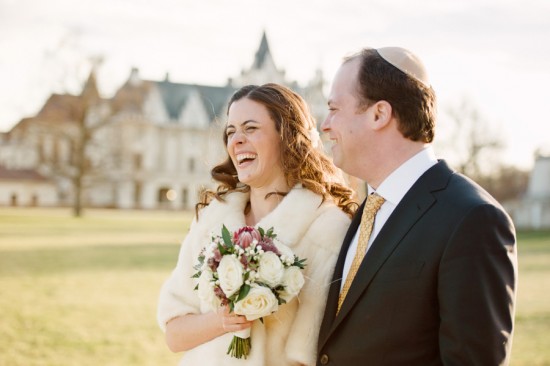 Once they decided on the venue, Miriam and Michael took a personal approach to wedding planning, and as you can see from the photos here, they did a wonderful job at it too. The weather, thankfully, cooperated as well, and the wedding ceremony was conducted outdoors in the castle gardens on a sunny and breezy, perfect spring day.
Miriam's bouquet was composed of a variety of flowers, all circling a central Protea flower. For table centerpieces, Miriam used blossoming branches surrounded by a mix of spring flowers which added natural freshness and liveliness to the affair.
The wedding cake was part whimsy part symbolism. Since the couple's last name is to be Mandelbaum, which is "chestnut tree" in Yiddish, a decorative chestnut tree full of happy little blossoms topped their simple, ecru wedding cake which was surrounded by their favorite animals on all sides.
Wedding Vendors:
Hair and Make-up: Julia Hrdina
Bride's shoes: Roberto Festa
Bride's earrings: Neuner Schmuck
Band: Frejlech Klezmer
Catering: Joshua's Foodart
Cake: Demel (Anika Post)
Location: Grafenegg
Ketubah: Ketubah.com
Wedding Dress: Kerstin Lehmann, Berlin
Veil: Zussa