We have finally (thanks to our highly talented technical developer) made the great Jewish wedding directory that is ChossonKallah.com more accessible for our ever-increasing mobile users. Over the past two years, we have seen a steady rise in visitors from mobile device users, and finally reworked our wedding directory into a leaner and simpler version optimized for all those couples and families finding their wedding resources through the use of their handheld internet browsing devices. The Mobile (beta) version of our website is now officially live; although, there's still plenty of tweaking that needs to be done.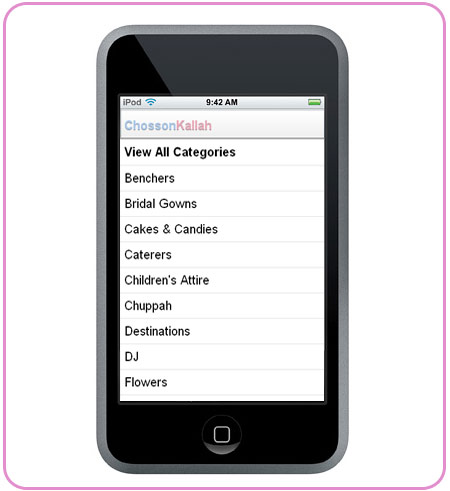 To see the new Mobile version just go to ChossonKallah.com on your handheld device. You'll see a much simplified version of our website, that I think you will like. It makes browsing the resources on our site even easier. The cool think about accessing ChossonKallah through your phone is that you can click any listing's phone number – any photographer, hall, caterer, make-up artist, florist, or any other wedding professional that interests you – and your phone can just dial the number for you.
You can also see the ChossonKallah mobile at m.ChossonKallah.com.
You can help us test out the new, still fragile mobile version. If you get any errors, send us a note via our Contact Us page or comment here.